Quilt along season is here! Of course there are sew alongs and block of the month programs happening throughout the year, but both January in particular always seems to bring a slew of fun group sewing opportunities, so I thought I'd do a little round up of 2019 quilt alongs. They're such a great way to sew through your fabric stash (something I'm really committed to doing this year) and meet kindred spirits in the quilting community. So every year I dive into at least a few.
Here's a running list of quilt alongs (some are free, some require a pattern purchase but very often there will be a discount in the lead up to QAL launch). I'll keep adding to this list as the year goes on.
NEW! October: Slow Your Roll sew along by Pen + Paper Patterns
NEW! October: Anna Maria Horner 2019 Sew Along by Lamb and Wolfie and Sharing the Good Stuff (this one seems very open/rule free, but you can follow the hashtag #amhsewalong19 for the full experience)
NEW! September: Granny Cabin quilt along by Then Came June
NEW! September: Free-Wheeling Single Girl by Denyse Schmidt and The Next Stitch
July: Scrappy Summer Sew Along by The Homebody Company
June: Summer Book Club quilt along by Quilt with Kate
April 1: Chamomile quilt along by Woodberry Way
February 25: Meadowloand quilt along by Then Came June
February 1: Sweet Treat and Taco Truck quilt alongs by Pen and Paper Patterns
January 21: Scrappy Trip Around the World hosted by Gnome Angel
January 15: Super fun Harry Potter quilt along by Lorna at Sew Fresh Quilts
Year long 2019 quilt along programs:
Aurifil Designer of the Month Block … this one is free mystery quilt, with a new block by a different designer revealed each month.
Threadology quilt along … a spool-themed quilt along benefiting the Make a Wish charity.
2019 Block of the Month Sampler Quilt Sew Along from the Quilter's Planner
Papercuts 2019 Block of the Month … a very cool paper snowflake-style paper piecing quilt along from Amy Friend.
QALs I'm working on
In choosing which quilt alongs I wanted to join I came across quite a few that looked great. Ultimately I decided that I would do just two (for now, ha ha), plus create my own secret BOMs behind the scenes, with the aim of having at least one free quilt along to share with you this time next year.
The projects I'm participating in this year are:
A Year with Miss Lizzy Block of the Month
I Heart You Quilt Along
Chamomile Quilt Along
And of course I'm also lucky to be part of an amazing beehive group, the Royal Canadian Quilter Bees.
A Year with Miss Lizzy
A Year with Miss Lizzy is a bit of a choose your own adventure block of the month pattern created by Angie over at Gnome Angel. You can opt for either a traditional sampler or a contemporary sampler. (Or both!) I'm sewing the contemporary, 12 block version, because I like working with big blocks, and I like the pace (and anticipation) of getting a new block pattern to work on each month.
Below is my take on the January block, "Hydrangea."
And here is my fabric pull for my Miss Lizzy's Blooms sampler: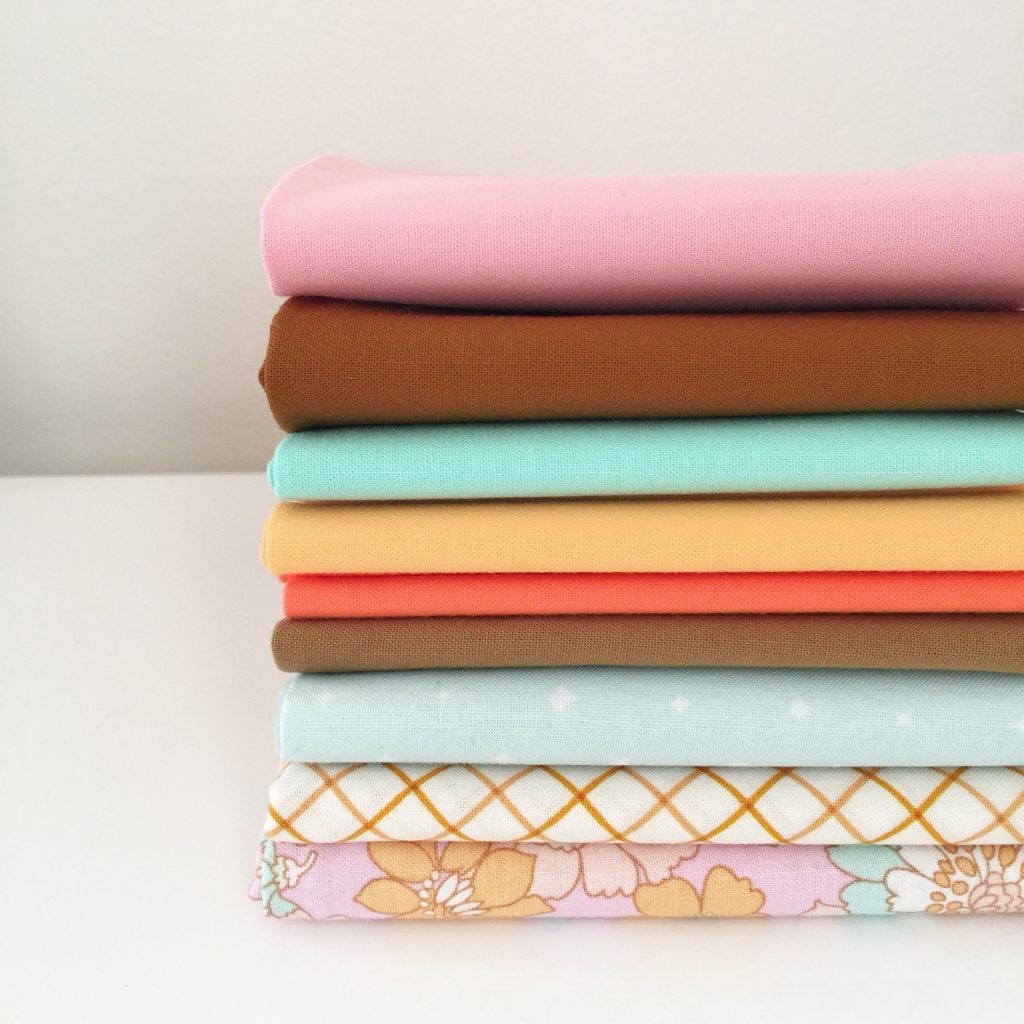 I Heart You Quilt Along
Next up is a quilt along taking place in January, the I Heart You Quilt sew along. This is a pattern is a collaboration by Pen and Paper Patterns and Then Came June. I've chosen to sew my blocks in a palette of blue, pale pink, and acid lime (that background fabric is part of the "Signature" collection by Sharon Holland for Art Gallery fabrics. It's a really fast sew so you can still join in (otherwise check out the Taco Truck and Sweet Treats quilt alongs, links at the bottom of this post).
Chamomile Quilt Along
I could not resist joining the quilt along for the beautiful Chamomile Quilt Pattern by Woodberry Way. It's a low volume quilt for which I've done all of my block cutting (but not the sashing) and started piecing. So far I am in love with the efficiency of this pattern. It makes great use of fabric (I'm using fat quarters) and has a really clever methodology for quickly creating the patchwork blocks (like the one below).
Beehive quilt
This time last year I started a new quilting adventure with a group of ladies from across Canada, thanks to Alyce of Blossom Heart Quilts who, along with providing a set of free block patterns perfect for group quilting bees, provided an amazing service organizing quilters into hives (follow her blog or newsletter for the next one, usually happens towards the end of the calendar year). The block below is a Ripple block (design by Angie of Gnome Angel) that I made for January's queen bee.
Have you joined or started any quilt alongs for 2019? Let me know in the comments!
Save
Save
Save
Save