Looking for free patterns? Checkout the new Varsity block or get the Patch + Dot newsletter for even more free, fun projects.
The new alphabet quilt (and pattern!) is finished. The version below is made with all Kona solids but I'm including some pictures in this post with different ideas for projects you can sew with these letters. Before we get to that though, the pattern details!
Beginner-friendly pattern using traditional patchwork. No paper piecing or templates. If you are comfortable with half-square triangles this is a great way to learn how to make letter quilt blocks.
The pattern illustrates how to create a quilt block for each letter of the alphabet, as well as sizing, fabric requirements, and instructions to create a 50″ x 56″ throw quilt.
Each letter measures 5″ by 8″.
Pattern format: PDF download.
Fabric requirements for the throw size:

Ribbon letters: 1.5 yards of mixed fabrics
Background: 3.25 yards
Backing: 3.5 yards
Binding 0.5 yards
The ribbon letter blocks were inspired by a pile of ribbons with all their different shades and shadows. I'm kind of obsessed with fonts so it was fun to try and work up an entire alphabet's worth of quilt blocks using patchwork squares. And it's a good pattern for beginners because the HST squares are generously sized, meaning there's lots of wiggle room when it comes time to crop them.
Now, onto some other projects.
First – and I'd love to pretend this was intentional on my part – but did you know that the Ribbon Letter blocks just happen to be the perfect size for stockings? Look at these adorable stockings made by Kjerste (@rosebudandpenny), top, and Stephanie (@sssews28), bottom.
They work great for holiday mini quilts, wall hangings, table runners and placemats. (I'm thinking they could also be used to make a personalized name/door sign for a kid's room.)
Save
Save
Save
Save
Save
Save
Save
Save
Save
Save
Save
Save
Save
Save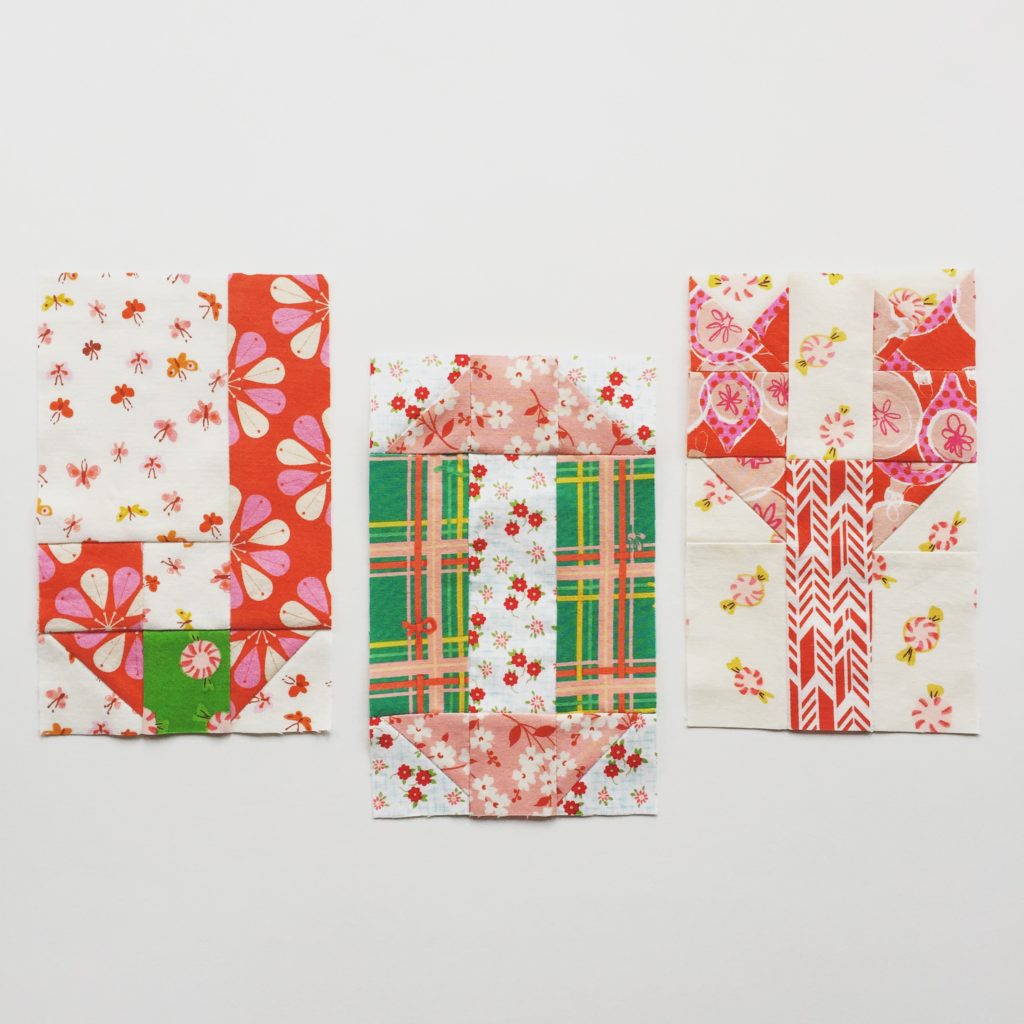 And here is a version I made using Rifle Paper fabric, one of their first collections from Cotton and Steel, with a solid cream background:


If you make a set of ribbon letter blocks I'd love to see them, so please leave a link in the comments, or tag on Instagram with #ribbonlettersquilt! 
(That pattern link again is here.)